Please join us in celebration of architectural achievements at our AIAIC 2011 Design Awards Banquet on April 28, 2011 from 6 PM - 9 PM.
It is being held at the University of California Riverside Alumni and Visitors Center.
The Center design by HMC Architects received a Merit Award for the AIAIC 2005 Design Awards.
3701 Canyon Crest Dr.
Riverside CA 92507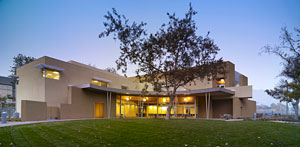 As a vital component to the campus, the center serves as a bridge between life as a student and that as an alumnus. The new two-story Alumni and Visitors Center links a secluded, natural arroyo preserve to the main entry point to the UC Riverside campus, bringing much needed tranquility to the bustling campus. As some of the site's trees were likely planted near the time of the University's founding, a large centrally located sycamore tree inspired the form of the building and the design process. The program is organized based on the site's proximity and orientation to corresponding public and private zones of the campus. The 12,300-SF facility includes a reception lobby, dining area, private meeting rooms, a library, boardroom, and offices